It is a true saying that there really is an App for everything. Even sex has become digitalised, with the introduction of increasingly innovative and app-controlled sex toys. Today, pleasure is almost synonymous with comfort and convenience. Therefore, they are now making new sex toys and moving towards the future with more remote, app-controlled, and hands-free adult sex toys. We are now in the year 2020, so if you are in the mood for a little bit more excitement, then app-controlled Bluetooth toys are the way to go.
App-controlled Bluetooth toys can be connected to your mobile phone and your partner's through the internet. You or your partner can have complete control over the speed of the vibrations, settings, etc. Anyone with a smartphone that is connected to the sex toy can control it. It allows you to be in control of your partner's orgasms. As a result of this, long-distance sex is now possible, allowing you and your partner to be in separate places and still control each other's toys.
In a world where we can now control a sex toy via our phones, here are some of the top and the leading app-controlled Bluetooth toys for adults.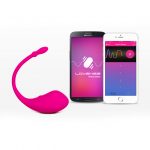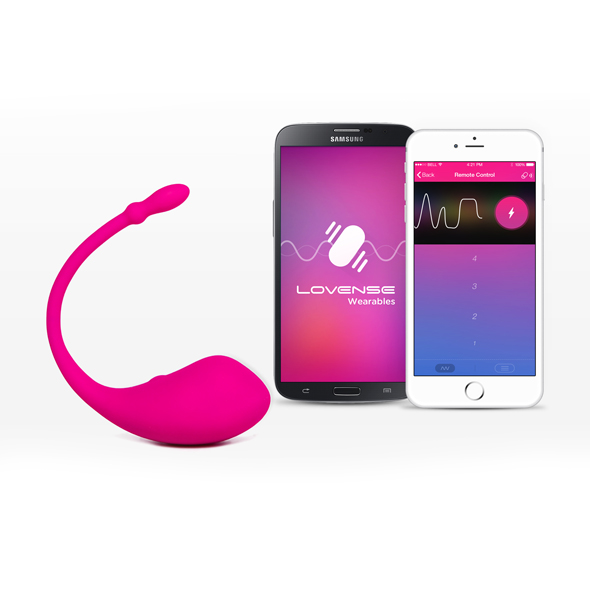 Spice up your love life at home, in public, or even long-distance across the globe with the Lush 3 egg vibrator. The Lush 3 is one of the most powerful Bluetooth remote control vibrators. The egg is totally wearable, intense, and smart. It is designed specifically to stimulate both the g spot and clitoris at the same time. It is 4 times more powerful than most vibrating panties, remote control vibrators, and love eggs. The app can be connected to endless patterns in and out of the bedroom. Download the app to your phone and the vibrator can be controlled via you and your partner's phone. Lush 3 is made from silicone that is body-safe and it is completely waterproof. It is easy to clean using mild soap and water. It is nearly silent once entered and works for up to 2.5 to 3 hours of continuous use. With the wireless and internet controlled you can use it from any distance and anywhere in the world. The app offers unlimited vibrations and you can also sync it to different music or specific sounds.
The Oh Mi body Bluetooth vibrator is the ideal sex toy for couples who may be looking for some extra fun in their relationship or ones who just can't bear to have distance between them. It is a wearable and versatile massager that can be Bluetooth enabled for app-controlled play where you can connect with your loved one in the same room or in another country. Esca 2 has 3 settings through Bluetooth, these include:
Full motor strength and no LED light
½ the motor intensity (for webcam models) and full LED lights
Full motor intensity and full LED light
Kiiroo Onyx 2 and Pearl 2 Couple Set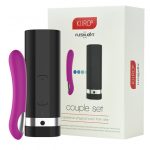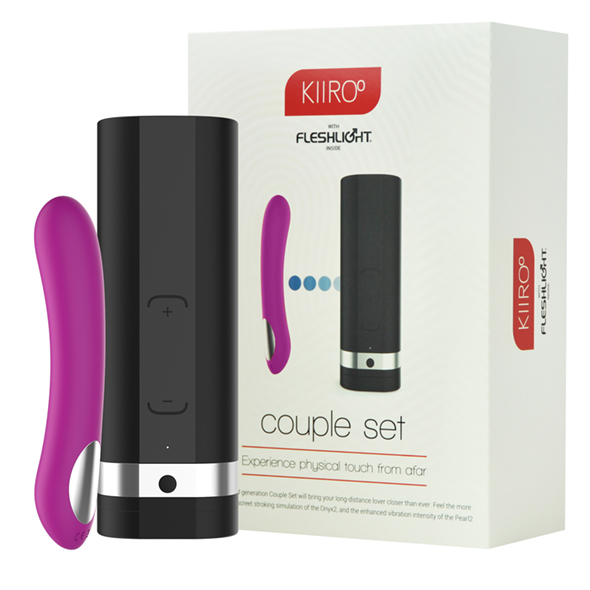 Kiiroo has created the solution to any distance between you and your lover. Both devices are equipped with Kiiroo technology that will allow you to feel your lover from anywhere in the world. The pearl and Onyx are 2 different types of sex toys. The pearl is the female vibrator with 9 different vibration settings. These settings range from slow pulses to ultra-high vibrations. The Onyx is the male masturbator with a fleshlight super skin sleeve and 3 different modes: slow, manual, and fast pump. It gives real skin on skin interaction and 140 strokes per minute. Both toys are Bluetooth enabled and can communicate directly once you connect to the Kiiroo app or video chat platform. Both partners can give and receive pleasure from their toys.
The Lovense Edge 2 prostate massager is the world's first adjustable hands-free prostate vibrator. Enjoy the vibrations on your own or with your partner. The massager is 100% silicone and supported by a sturdy inner frame that you can bend into any position you would like. Like most Lovense toys, the Edge 2 is controlled via the app through Bluetooth or via the internet for long-distance partners. The app gives you control over the entire power levels. It has 2 powerful vibrations, light or strong vibes. The device is rechargeable and can be used for up to 60 minutes continuously.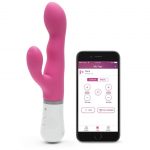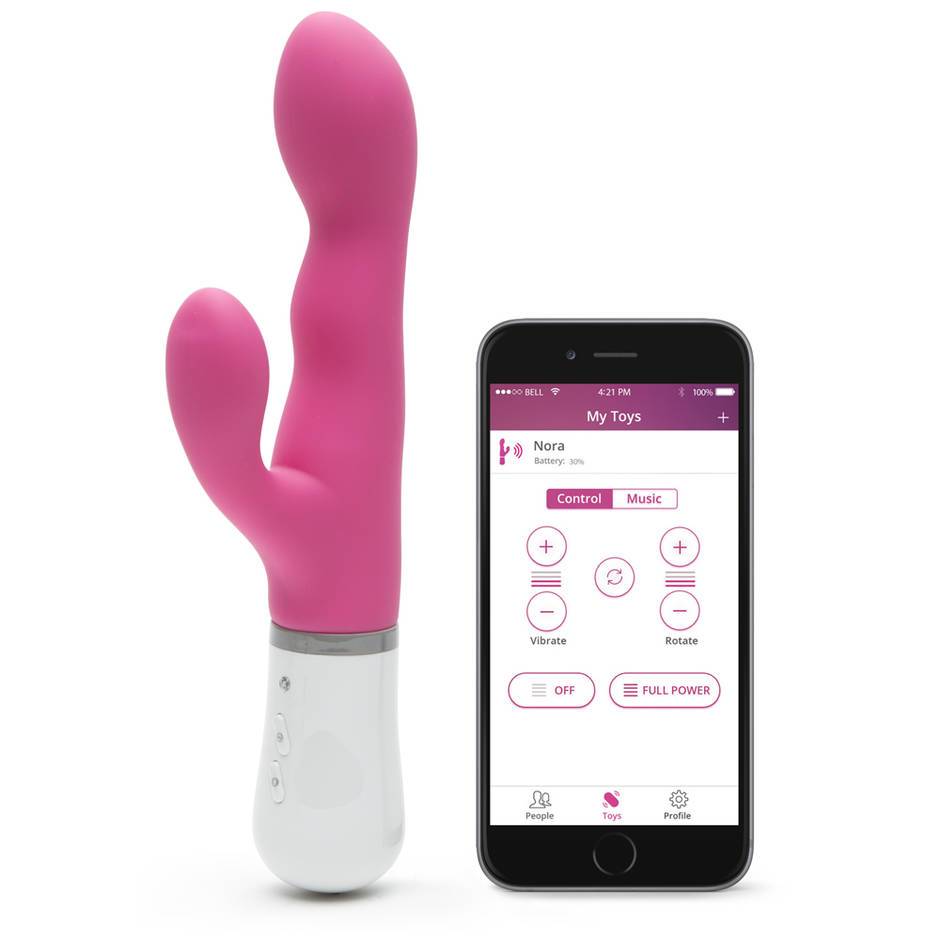 Nora is a rabbit Bluetooth enabled vibrator which allows you to control your toy from your smartphone. Let your partner get involved by giving them control from anywhere in the world for long-distance sex. Reach intense orgasms thanks to the angled ripped shaft which can be rotated in two directions, which will enable you to hit your g spot. The arm contains a clitoral stimulator for dual stimulation. Download the app and away you go for hours of solo fun or with your partner.
Interactive Sex Toys 
Are you enthusiastic or curious about the world of interactive sex toys? Immerse yourself in the ultimate virtual reality experience with PleasureStore. Get the best toys for interactive cam shows from a wide range of world brands including Lovense and Kiiroo. Interactive sex toys can sync with the many different camming sites in different ways. The Kiiroo Pearl 2 Teledildonic Vibrator allows you to explore the virtual reality world so you can live out new fantasies. Lovense is one of the leading manufacturers in interactive sex toys. Both lush and hush products are ideal for camming. Sync up to different camming sites through the app.
Benefits and Modernisation of Tech Adult Toys 
With the popularity of shows like Fifty Shades of Grey and Sex and the City, adult sex toys have become part of popular culture. They are now easily accessible online, and all sex shops offer a wide range of products; something for everyone's tastes.
High tech adult toys are now a growing trend. There is growing popularity in teledildonics and app-controlled Bluetooth sex toys. There are many benefits to tech adult toys today, these include:
App-controlled Bluetooth sex toys can be controlled through the internet from anywhere in the world. So, you and your partner can have lots of fun from a distance.
All couples will have no problem reaching multiple orgasms. Reach intense and quick orgasms in the most exciting way.
Enhance your sexual performance. Bringing sex toys into the bedroom will bring out you and your partner's sexual fantasies.