As the world emerges from the first wave of COVID-19, commonly known as the Coronavirus, there are many things rapidly changing in our lives. The entire world has experienced the effects of the virus, some more so than others. Some single people may have missed intimacy or just simply miss having someone to hold, all of which was not possible during the pandemic. For some, it has affected their relationships and sexuality. The social distancing and isolation measures have made it very difficult to meet people, creating loneliness. Some may have experienced stress and anxiety by being stuck indoors for weeks on end. Even during the worldwide crisis, we can still find safe, new, and innovative ways to re-connect intimately and sexually through technology. Virtual sex and technology are evolving, and many people are buying digitally connected sex toys to show intimacy and to explore new experiences in a safe and discreet manner.
PleasureStore has a wide range of virtual sex toys for both him and her. App controlled Bluetooth toys allow you to control a sex toy from your smartphone or tablet, even if you are in 2 separate places. We supply some of the leading brands including Kiiroo Pearl 2, Pornhub, Kiiroo Onyx and pearl 2 couple set, Kiiroo Onyx, Lovense, and more.
Sex toys and the Coronavirus
COVID-19, commonly known as the Coronavirus is a global pandemic that has spread worldwide at a rapid pace. The virus can spread easily from person to person through airways via the mouth or nose when an infected person sneezes or coughs. Global data saw a 50% boost in adult sex toy sales from original forecasts previous to the pandemic. Sex toys are safe to use provided they are cleaned regularly and you use them safely. There has never been a better time to experiment and spice up your love life with a fancy new adult sex toy. Whether it is for you and your partner to enjoy or for self-pleasure, once the toys are used correctly, they are a great stress reliever which could help you during the pandemic. There is a wide range of different sex toys on the market, today some of these include; vibrators, dildos, virtual sex toys, couples sex toys, anal beads, vacuum pumps, and much more. Find out more here!
Some of our most popular brands include:
Online shopping is the best way to go during the pandemic as it is so easy and convenient to purchase your products and have them delivered straight to your door discreetly and safely. All products are in boxes so once you have opened the product, the packaging should be thrown away into recycling. Wash your hands immediately afterward.
To clean your sex toys after using them, you should check the material and the recommended cleaning solutions to use. Mild soap and water should be sufficient for cleaning your products. There are various types of cleaning solutions on the market to buy, some of these include:
Monica sweetheart sex toy cleaner
Flesh light wash anti-bacterial toy cleaner
Electrastim sterile cleaning wipe sachets.
Be stress free, worry free, and have safe and clean sex toys to use in a flash. Remember to always wash your hands after cleaning your products.
Pandemic Sex Toys that are right for you
The virtual reality sex toy industry is a growing trend in recent years and many more people are opting to give it a try. PleasureStore is Ireland's leading online sex store for all your pleasure needs.
Kiiroo Onyx and Pearl couple set
Kiiroo Onyx and Pearl are revolutionary adult toys that allow you and your lover to feel and communicate with each other from anywhere in the world. Both toys are Bluetooth enabled so you can communicate directly via the app or video chat platform. This virtual couple sex toys are designed to close the distance and gap between you and your partner. Both toys are Kiiroo technology equipped which allows both partners to feel every move of the device. Once the pearl 2 vibrator is placed inside the body, the touch sensors will then signal to the Onyx, making it feel like you are having real intercourse. The onyx control pad can control her vibrations, giving you instant pleasure.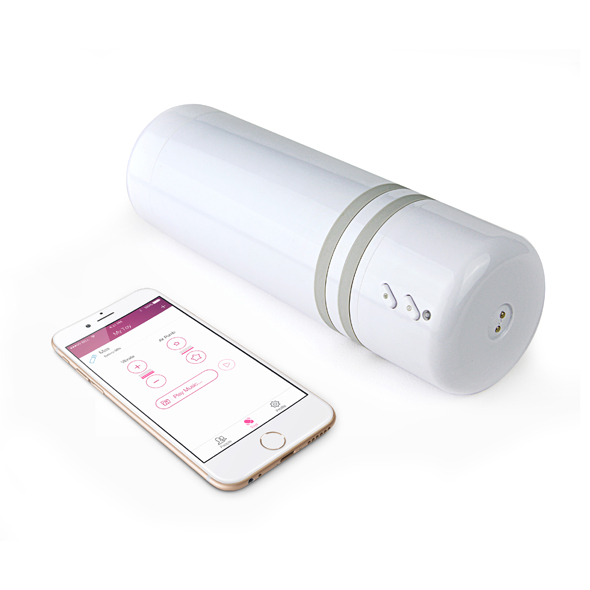 The Lovense Max 2 is the first high tech male masturbator available on the market. The air pumps mimic contractions and the vibrator will also send subtle vibrations throughout the toy. Use the app or the buttons on the toy to change the settings of the air pump and adjust the tightness. The Lovesense Max has 3 vibrator settings, a splash proof exterior, 2 air pumps with mimic contractions, and a skin like TPE sleeve with a textured interior. This product is ideal for long distance sex with your partner, allowing them to take control of the toy for you.
The Kiiroo Onyx brings a whole new sensory experience to the internet. It has 3 modes: manual mode, interactive mode, and automatic mode. Whether you want an interactive experience with your favourite webcam star, virtual reality fun, or a one to one connection, this sex toy has got you covered! It is lightweight, discreet, and ideal for travelling.
Kiiroo Oh Mi Bod fuse pink rabbit vibrator
The pink rabbit vibrator from Kiiroo is the ideal long distance and unique sex toy for her. The rabbit lively vibrations can be enjoyed with a partner or solo for extremely fun virtual sex. The fuse dual stim massager is Bluetooth enabled with 2-way communication so you and your partner can share pleasure from any distance. It can be controlled via an application and the LED light illuminates to provide visual feedback. You can easily synchronize your sensations and ignite a connection from a distance.
Sex toys are becoming a COVID-19 essential
We all exercise and take supplements to keep us active but how many will admit to masturbating to help maintain good mental health? It is a very effective method of self-care, making you feel a lot less stressed and happier after enjoying an orgasm. The online adult sex toy store industry has seen a huge surge in sales during the lockdown and many businesses have been booming. A lot of couples had to be socially distanced from each other so then the teledildonics market grew rapidly overnight.
The teledildonics brand Kiiroo saw a huge surge in sales with more and more people staying at home during the COVID-19 pandemic.
How to Show Love During the Age of COVID-19 Without Getting Physical
For many of us, we had to stay at home during the COVID-19 crisis. Every single part of our lives changed but for many spending weeks apart. Some relationships found this to be a very difficult time. Love had always been associated with sweets, flowers, and counting down the days until you see your loved one again. Intimacy is important in a relationship but there are other ways of showing your partner you love them without being physical with them. Here are some ways of spicing up your love life.
Buy your partner an adult sex toy
If you're in a long-term relationship, whether you are living together or in a long distance relationship if you want to increase both intimacy, pleasure, and show your partner how special they are to you, then why not gift them with a sex toy for both your pleasure. You can purchase a sex toy for couples that would work ideally for both partners like the app-controlled sex toys. This way you can control each other's pleasure, even if you are not in the same place. Giving your partner a gift shows you really care about them, after all, it is the thought that counts.
Lighten their workload
Does your partner dislike doing the dishes or maybe cleaning in general? Why not surprise them by easing their workload and doing this task for them. It is a nice gesture and the result will make them happy and they will also feel very much appreciated. This will go a lot further than you think.
Try the app-controlled sex toys for long distance sex
The app-controlled sex toys are a great way for you and your partner to connect even when you are not in the same room. The toys allow you to control what your partner feels giving you both internal and external stimulation. Add a bit of spice and fantasy to your sex lives with the app-controlled sex toys from Pleasure Store delivered straight to your door!
The lovense Max 2 Bluetooth male masturbator is one of the first high tech male masturbators. It features a realistic skin like sleeve and patent pending air pump design. The air pump mimic contractions and the vibrator send subtle vibrations through the toy. This toy can be controlled by your partner through the app via your phone for long distance intimacy. Let your partner control the intensity, vibrations, and suction power of your max blow job. Why not sync up the Nora sex toy also!
Upgrade long distance sex with the Max and Nora interactive toys designed to add a whole lot of fun for both you and your partner. Nora was the first Bluetooth rabbit vibrator on the market. It allows you to easily control your toy with your smartphone, give your partner control from any distance, and sync music. The head of the toy rotates which will enable you to hit the g spot. It has 3 different settings and it is completely waterproof. The clitoral arm contains a vibrator which allows for dual stimulation. This is the perfect toy to enhance the female sensations.
Why Choose Pleasure Store for your virtual adult sex toys during COVID-19 pandemic?
PleasureStore is Ireland's leading online adult sex toy shop bringing you an extensive range of adult toys for men, women, and couples alike. Spice up your love life and add some excitement whether you are going solo or with your partner.
Most Affordable prices in Ireland
We source only the best quality toy brands at the most affordable prices. Our aim is to keep every customer happy and we strive to offer the best value in Ireland for all adult sex toys.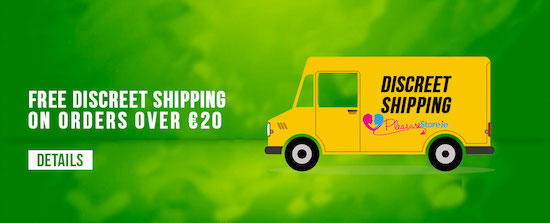 PleasureStore offers free shipping on all orders over 20 euros. Discreet packaging, fast shipping, and a confidential sex shop experience come as standard with all online purchases. The main objective to our online company is to make it as straight forward and as convenient as possible for you when buying online. Orders that are placed before 2pm Monday to Friday are dispatched on the same day. Orders placed on Saturday or Sunday will be dispatched on a Monday.
Exceptional quality sex toys are chosen for your satisfaction
Offering a wide range of high-quality sex toys from top brands such as LELO, Fleshlight, We-vibe, Lovense, Fifty Shades of Grey, California Exotics, and Tenga, to name a few. All listed sex toys on our site are chosen based on their value, safety, quality, and the manufacturer's reputation. You can rest assure that you are receiving only the best products on the market.
When you purchase a product for at least 30 euros or more, PleasureStore then gives you a free mystery gift. The free gifts change from time to time. Some of the free gifts may include a magnetic cock ring, minx bliss bullet, purple heart massager, and many more. Your gift will be shipped with your order.
Exceptional Customer Service
Customer satisfaction is paramount and we always aim to exceed your expectations. PleasureStore prides itself on exceptional customer service that you deserve. If there is something you have in mind that we may not have in the range of products listed on our site, you can get in touch with us to discuss your needs. All queries and questions will be answered thoroughly.
Large Range of Sex Toys
Pleasure Store offers a wide range of products online at the best prices. The range of products we sell is consistently growing to keep all customers extremely satisfied and bring you new and fun ways to spice up your love life. Some of the most popular adult sex toys include rabbit vibrators, dildos, erection rings, vacuum pumps, penile toys, penis enlargers, anal beads, and many more.